Tom Antkowiak MD, MS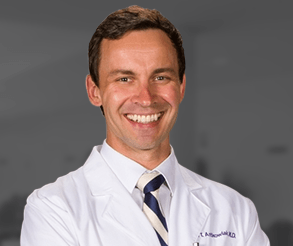 Education & Training
Bachelor of Science in Biology: McGill University, Montreal, Québec
Master of Science in Neurobiology: McGill University, Montreal, Québec
Doctor of Medicine: Albany Medical College, Albany, NY
Surgery Internship: University of California, Davis Medical Center, Sacramento, CA
Orthopedic Surgery Residency: University of California, Davis Medical Center, Sacramento, CA
Sports Medicine and Arthroscopy Fellowship: Southern California Orthopedic Institute, Van Nuys, CA
Fellowship:
Southern California Orthopaedic Institute, Los Angeles, CA
Board Certification:
Board Certified - American Academy of Orthopedic Surgery
Professional Associations
American Academy of Orthopaedic Surgeons, Fellow
American Orthopaedic Society for Sports Medicine
Arthroscopy Association of North America
Illinois State Medical Society
Special Projects
Buzz – To help fulfill his goal of providing every patient with the highest level of care and compassion possible Dr. Antkowiak has aided in the development of a patient communication App. This HIPAA compliant technology allows the surgical team to better coordinate care and to share updates with patients and family members throughout the treatment process. To learn more please visit: https://med.skyscape.com.
Teaching and Consulting
As a leading expert in the field of Orthopedic sports medicine, Dr Antkowiak is a consultant to several companies. In this role Dr. Antkowiak has helped to design and improve upon the instruments that surgeons around the world use to perform orthopedic procedures. Dr. Antkowiak also participates actively in the teaching of other surgeons and is a frequent speaker/instructor at conferences around the United States.
---
Dr. Antkowiak's patient care goals are simple: to provide every patient with the highest level of care and compassion possible, just as he would desire for his family and for himself. He strives to get patients safely back to doing the things they love by providing thorough evaluations, appropriate treatment options, and high quality surgical interventions when necessary.
Dr. Antkowiak brings his exceptional sports medicine and orthopedic surgical skills to OAK Orthopedics after completing a sports medicine fellowship at the prestigious Southern California Orthopaedic Institute. Prior to fellowship, Dr. Antkowiak graduated cum laude from Albany Medical College in Albany, New York and was inducted as a member of the Alpha Omega Alpha Honor Medical Society. This was followed by residency in orthopedic surgery at the University of California Davis Medical Center (UCDMC), an institution renowned for outstanding orthopedic care and training. During his time at UCDMC, Dr. Antkowiak was honored to be selected Co-Chief Resident and received the outstanding achievement award for Top Resident in Orthopaedic Trauma. He was also recognized as an "Emerging Leader" in the field at the 2011 meeting of the American Orthopaedic Association. Other recent awards include:
Top 1% Nationally for patient satisfaction
"Best Orthopedic Surgeons" Best of Will County Readers' Choice
See patient experiences
Dr. Antkowiak has a particular interest in minimally invasive arthroscopic techniques. He sub-specializes in several areas including advanced shoulder arthroscopy, knee ligament/cartilage reconstruction and hip arthroscopy. Dr Antkowiak performs the innovative and minimally invasive partial knee replacement utilizing robotic assistance. He has co-authored recent articles on topics including hip arthroscopy, ACL reconstruction and orthopedic trauma. Dr. Antkowiak has lectured on topics that include cartilage restoration techniques in the knee, hip, and ankle, as well as on the use of MRI for the diagnosis of hip injuries. He has served as team physician to several high school and college programs and has participated in the care of numerous professional athletes.
Dr. Antkowiak is part of the Sports Medicine Division of OAK Orthopedics. His knowledge and extensive training, coupled with his engaging style and dedication will be apparent upon one's first meeting. His passion for sports medicine is further strengthened by his own experience as a Division I collegiate athlete at McGill University where he served as team captain of the men's volleyball team. Dr. Antkowiak serves as co-team physician for Lincoln-Way North and East High Schools and assists as a team physician at Olivet Nazarene University. Dr. Antkowiak enjoys spending time with his wife and young boys and when additional time permits playing golf or skiing. Dr. Antkowiak is fluent in Polish and conversant in French; he is available to see patients at both the Frankfort and Bradley offices.